If you like Sailing, cruising, racing, boating on Pittwater, you should think about Palm Beach Yacht Club. At Palm Beach Yacht Club, on Pittwater, you can sail, cruise, and race with friends. Plus you have access to Club Casual Moorings. All this for only $290 pa for full family membership.
ANNUAL PBYC DINNER Click – SLIDE SHOW or PICTURES
TWILIGHT HANDICAPS for PURSUIT Races 2015-16 – Click Here
RACING PROGRAM 2015-16 – Click Here
CLUB CALENDAR 2015-16 – Click Here
2015 NEW YEAR  CRUISE

With Daylight Saving in force and the Summer weather starting to make itself felt, it is time to confirm plans for a New Year Cruise.
Some Options are  -  1) relaxing week in Lake Macquarie, 2) A more adventurous trip North to Newcastle, Broughton Island and Port Stephens or 3) A ride down South to Sydney Harbour, Port Hacking & Jervis Bay.
Looking to get away around 2nd January (Saturday) and return the following weekend (Sunday 10th or Monday 11th).
Also considering a New Years Eve Raft-Up in Towler's Bay and maybe one boat to head to Bayview for the local fireworks.
Let me know what you would like to do so we can plan and make final confirmation before the middle of November.
FAIR WINDS – Jim (0414 351 642)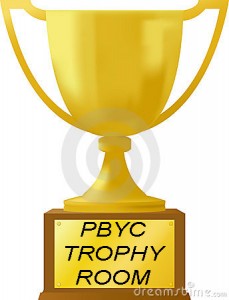 UPCOMING EVENTS - Summary

| DATE | EVENT | TIME |
| --- | --- | --- |
| Sun 18th Oct 2015 | ESTUARY 1 - Olympic Course | 13:00 |
| Fri 23rd Oct 2015 | Twilight - Traditional Start | 18:00 |
| Sun 25th Oct 2015 | RESCHEDULED - Rally & Raft | 12 noon |
| Fri 30th Oct 2015 | Handicap Twilight | 18:00 |
| Sun 1st Nov 2015 | RMYC Whitworths Race | |
| Fri 6th Nov 2015 | Twilight - Traditional Start | 18:00 |
| Sat 7th Nov 2015 | Broken Bay Interclub Challenge | |
| Sun 8th Nov 2015 | ASC Race | |
| Fri 13th Nov 2015 | Handicap Twilight | 18:00 |
| Sun 15th Nov 2015 | ESTUARY 2 - Lion Island Plate | 13:00 |
| Fri 20th Nov 2015 | Twilight - Traditional Start | 18:00 |
| Fri 27th Nov 2015 | Handicap Twilight | 18:00 |
| Sun 29th Nov 2015 | PBYC Annual BBQ | 12 Noon |